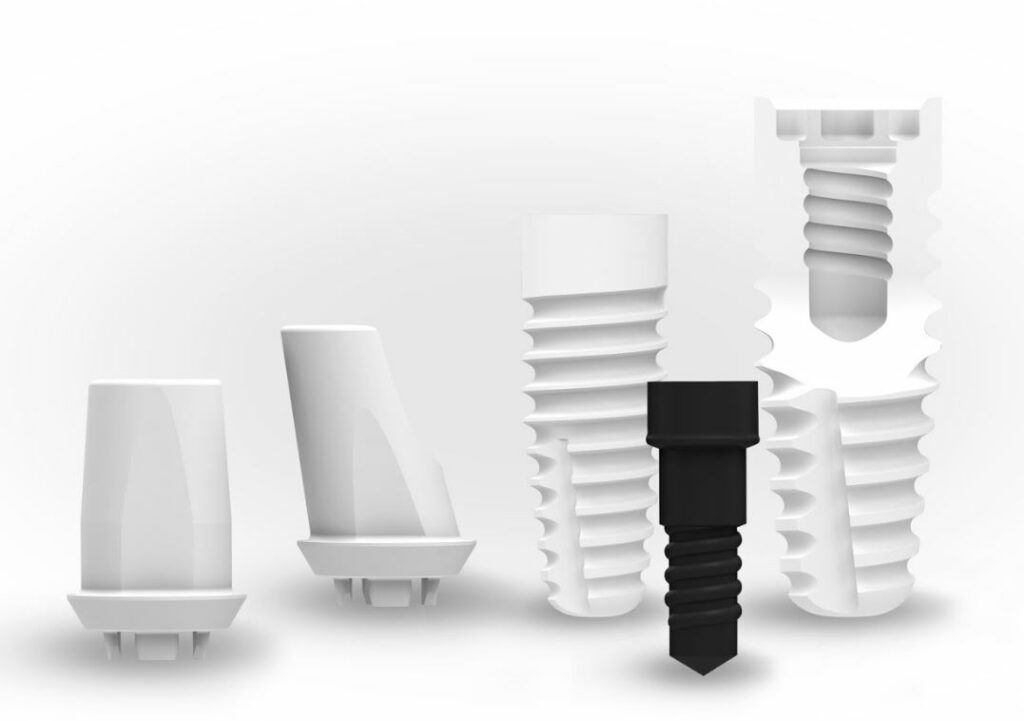 HOW ARE ZIRCONIA IMPLANTS DIFFERENT FROM TRADITIONAL DENTAL IMPLANTS?

Titanium dental implants have been used for decades, providing patients with restored smiles and safeguarding the stability of their dental arches by preventing underlying bone from dissolving. However, titanium implants can pose specific problems for some patients. Zirconia, an inorganic metal that can be formed into an incredibly hard and stable ceramic, is the most advanced alternative to titanium for dental implants.

A NEW APPROACH TO DENTAL IMPLANTS

While dental implants are traditionally made from titanium, the natural aging process can allow gums to recede and the metal of the implant show at the gumline. In contrast, zirconia implants are 100% metal free, so your smile will maintain its even look and shine even if your gums recede slightly as you age.

WHAT ARE ZIRCONIA IMPLANTS?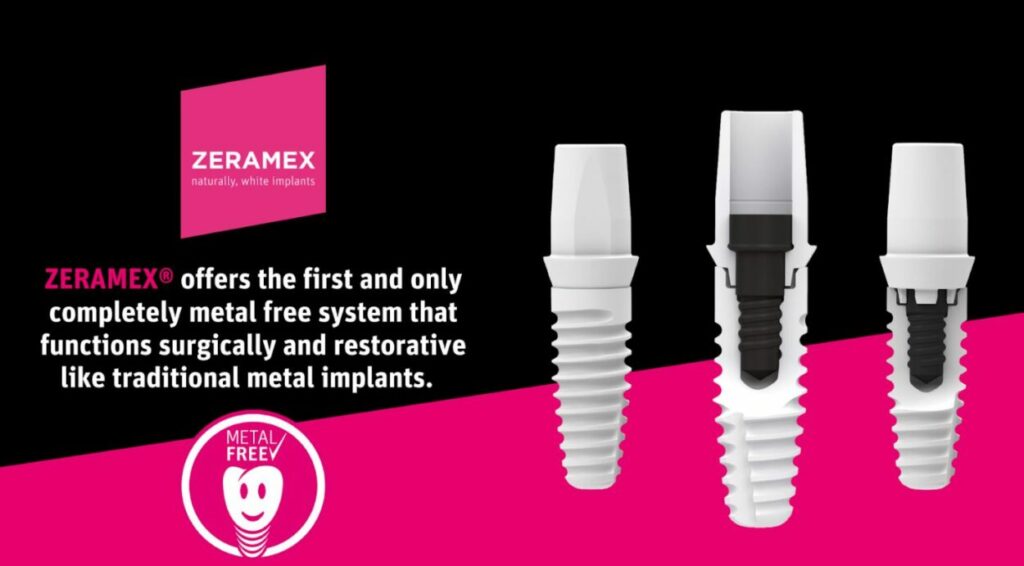 Zeramex® Zirconia Implants are carefully fabricated from a biocompatible, corrosion-resistant ceramic that has an even higher material strength than titanium. This process creates a strong, stable, long-lasting implant that maintains a natural tooth color for an aesthetically pleasing smile.

What sets Zeramex® implants apart is the technology. A specialized biocompatible bit ensures the initial drilling is precise for perfect positioning. The ceramic root-shaped implant has several different diameters and lengths, so the appropriate size can be seated securely in the jawbone.

Once the bone and ceramic implant fuse, the abutment can be placed. The carbon-fiber screw-retained abutment fits tightly inside the main implant for a secure internal connection. Four positioning tips facilitate optimal alignment on insertion, and a slightly beveled edge provides stability and ensures accurate centering.

The ceramic implant withstands compression forces by absorbing pressure waves. The carbon-fiber screw provides resistance against tensile forcers, for an optimal implant experience. This 100% metal-free design reduces the risk of implant rejection.

Drs. Godat and King offer zirconia implants to many patients who want a beautiful, functional smile but may have gum recession in their future.

DOCTOR RECOMMENDED – PATIENT APPROVED

All Zeramex® dental implants are FDA compliant and made in Switzerland for the tightest possible quality control. More than 50,000 zirconia ceramic implants have already been successfully placed worldwide. The two-piece implant and internal screw system is designed to maximize the strength of zirconia and provide maximum strength and stability.

WHAT ARE THE BENEFITS OF ZIRCONIA IMPLANTS?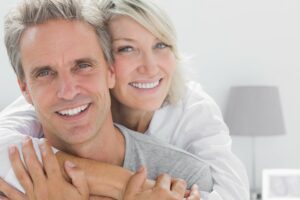 With dental implants, you can experience full functionality and aesthetics again, able to speak, eat, and smile without hindrance.
Unlike titanium implants, Zeramex® Zirconia Implants won't attract bacteria or conduct an electrical charge. The hypoallergenic ceramic reduces your risk of irritation or infection in the gums, and prevents you from suffering a metal allergy reaction.

The varying sizes of implants available allow your dentist to precisely customize implant diameter and depth, for the most secure fit in your jaw. The biocompatible bit eliminates unnecessary bone removal and creates the perfect tight fit for the implant to speed fusion.

The white color of the implant helps prevent a grey sheen showing through if you have thin gums. The zirconia material is also corrosion resistant, preventing degradation of the implant.

HOW DOES THE ZIRCONIA IMPLANT PROCEDURE WORK?

Our process uses specialized 3D imaging technology to ensure accurate dental implant placement. The implant (also called a post or a screw) is carefully inserted into the bone of the jaw, then covered with your gum tissues and left alone for 3-6 months so the implant can fuse to the bone.

The abutment will be fitted, and the gums allowed to heal in turn. Dr. Godat, Dr. King, or Dr. Craddock will provide you with a temporary restoration. Once the entire implant has properly seated itself and healing is complete, your matching crown will be placed, and your smile will be restored.

HOW DO I CARE FOR MY ZIRCONIA IMPLANTS?

Your zirconia implant is designed to look, feel, and function just like your original teeth. Brush, floss, and see your dentist regularly for dental and periodontal care. A properly maintained implant and restoration can last for decades.

Since the implant is white, you should be able to enjoy a perfect aesthetic smile even if your gum tissue thins. Use care when brushing along the gumline and seek regular periodontal care to support implant health and reduce the chances of bacterial buildup and irritation.

Contact us today for a consultation and find out if Zeramex® Zirconia Implants are right for you.