Cosmetics and Implants: What Are Your Options?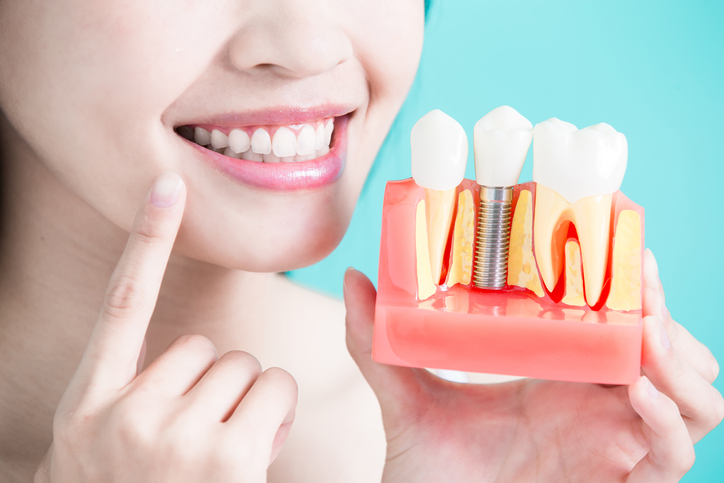 Everyone deserves to feel confident about their smile. Unfortunately, for some patients, this is easier said than done. Anything from minor blemishes and gum discoloration to cracks and missing teeth can make you hesitant to show off those pearly whites.
At the Periodontal Associates of Memphis, we offer cosmetic and implant dentistry services designed to restore your teeth, gums and mouth to prime condition. Let's take a closer look at the differences between cosmetics and implants and how to choose between them.
What Is Cosmetic Dentistry?
Cosmetic dentistry refers to any dental work that enhances the appearance of your teeth and gums. While some procedures focus solely on aesthetics, many also improve functionality. Here are the cosmetic periodontal treatments we offer:
Dr. Godat and Dr. King will typically start with an initial consultation, during which they'll thoroughly examine your mouth. Then, they'll devise a treatment plan designed to produce a healthier smile. While cosmetic procedures can be performed on their own, they're often combined with other treatments, such as dental implants.
What Is Implant Dentistry?
Implant dentistry is a type of cosmetic dentistry designed specifically for missing teeth. It involves surgically installing dental implants to fill out gaps in your smile. The implant itself consists of a small, titanium fixture that's placed directly into the jawbone — over the course of a few months, the fixture will fuse with the jawbone. Once it's secured, Dr. Godat will cover it with a dental crown that looks and feels just like regular teeth. Dental implants are often preferred over other tooth replacement options (such as dentures) due to the following benefits:
Natural appearance: Dental implants look, feel and function just like regular teeth.
Durable: Unlike dentures, dental implants do not slip out while you talk or chew.
Long-lasting: The titanium roots are designed to last a lifetime.
Low maintenance: To care for dental implants, all you need to do is brush and floss like usual.
Improves oral health: Implants help stimulate the jawbone, which is good for oral health.
On the downside, not everyone is eligible for dental implants. To support the implants, you need to have both healthy gum tissue and bone structure. During an initial consultation, the Periodontal Associates of Memphis team can determine whether you're a good candidate for implant dentistry. In some cases, we may recommend undergoing another procedure (such as bone grafting) to fortify your jawbone first. In other cases, we may recommend a different treatment entirely.
How Do I Choose Between Cosmetics and Implants?
With so many different treatment options available, you might be wondering: which is right for me? Do I need dental implants or another cosmetic procedure? The answer depends on the following factors:
The results you're looking for
Your personal preferences
Your oral health
First, you should consider the results you're hoping to achieve. Dental implants are helpful for patients who are missing one or more teeth. If you have another problem (like misalignment or crooked teeth), you may benefit from a different procedure, such as orthodontic uncovery or Wilckodontics.
The next factor is personal preferences. Implant dentistry involves surgical procedures, which can be nerve-wracking. At the Periodontal Associates of Memphis, we offer sedation dentistry to help alleviate dental anxiety. However, if you'd prefer something less invasive, you might be better off with an alternative treatment (like dentures).
The final factor to consider is oral health. If you have a weak bone structure or unhealthy gums, you may need to undergo another procedure (such as bone grafting or a thorough dental cleaning) before receiving dental implants.
Can I Get Cosmetic Treatments and Implants Together?
When looking through the different cosmetic and implant dentistry treatments available, you might decide you'd like both. For example, a patient with gum discoloration and a missing tooth may want to experience both gum lightening and dental implants. The good news is, you can receive both these treatments — in fact, in many cases, cosmetic treatments and dental implants go hand-in-hand. Treatments that are often performed before dental implants include:
Gum grafts
Pinhole surgical technique
Soft tissue ridge augmentation
For dental implants to be effective, they must be supported by gum tissue. If you have receding gums, there may not be enough tissue for an implant. Cosmetic procedures like gum grafts or the pinhole surgical technique can enhance the gum-line, consequently creating a greater surface area to support implants.
In addition to healthy gum tissue, dental implants require a strong jawbone. When a tooth is missing, the corresponding gum and bone may also be lost, resulting in a "sunken" appearance. A soft tissue ridge augmentation strengthens the tissue surrounding the gap, creating a solid foundation for a replacement tooth.
Where Can I Find Cosmetic and Implant Treatments?
Choosing between dental procedures can be overwhelming. When you have so many treatments available, it's not always easy to pick the right one. Fortunately, you don't have to do it alone. At Periodontal Associates of Memphis, we strive to ensure every patient receives the best possible treatment for their needs.
At your first appointment, our team will ask questions to learn more about your preferences and determine what you're looking for. Then, we'll carefully examine your teeth, mouth and gums to get a bigger picture of your oral health. After this consultation, we'll work with you to devise a treatment plan. This may involve dental implants, another cosmetic treatment or multiple procedures. Ultimately, our goal is to help patients achieve the smile of their dreams. Start improving your oral health by requesting an appointment today!