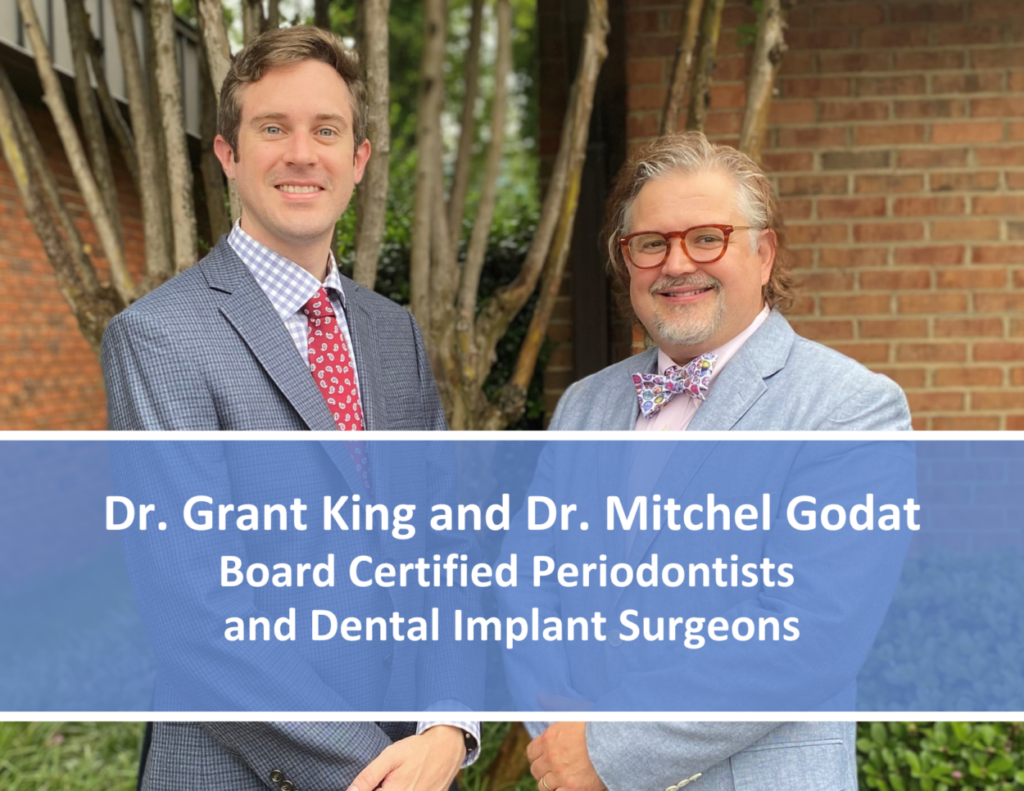 When your dentist diagnoses you with gum disease or determines that you need dental implants, they might refer you to a periodontist. Dental implants are fixtures attached directly to the bone with artificial teeth that are virtually indistinguishable from your regular teeth. Cleaning your gums and installing implants are complicated procedures–and periodontists specialize in this field to offer the best possible treatment.
What is a Periodontist?
While dentists have some experience with gum disease, their education covers a broad range of subjects. Periodontists go to school to learn specifically about gums and dental implants. Typically, they go to school for another three years to learn about treating damaged gums. Dentists refer patients to a periodontist if they think the periodontist will provide better, more specialized care.
Periodontists deal with gum disease, dental implants and certain types of tooth decay. They remove damaged tissue, eliminate bacterial infections, treat bleeding and receding gums, install dental implants and clean the roots of infected teeth. Since periodontists work exclusively with gums, they typically have years of experience in treating patients with gum disease. You'll get extra knowledge that you wouldn't get with a dentist.
Which Services Do Periodontists Offer?
A periodontist offers services that your regular dental clinic might not perform. Periodontal Associates of Memphis offers the following procedures:
Our advanced procedures include laser periodontal treatment (LANAP) and the pinhole surgical technique. If you don't see your procedure on this list, reach out to us to learn more.
Why Should You Choose a Periodontist Over a General Dentist?
Better Assessment
Periodontists perform a full assessment to figure out a treatment plan. They'll start by reviewing your medical history and talking to you about procedures, medications and health conditions that might contribute to your issues. Next, they may take X-rays to see the bone underneath your gum line. They'll check your gums for recession, evaluate the gum line and check your teeth for gaps and issues with your bite.
Since they have specialized knowledge, periodontists know exactly what to look for. They'll provide a quicker diagnosis, which saves money, reduces appointments and enables you to start treatment as soon as possible.
Advanced Technology
Your dentist may not have access to the latest periodontal technology. They can still perform select procedures, but you could experience more pain and a longer recovery time. For example, traditional gum grafting involves cutting tissue from healthy gums and attaching it to the exposed root. The pinhole surgical technique completes this procedure in a fraction of the time and uses non-invasive tools to lift your gums back into place.
Periodontists stay on top of the latest advancements and invest in new technology. They perform these procedures hundreds of times, ensuring that you'll get the best quality care. Since they're experts in periodontal technology, they can explain exactly what happens to keep you informed and alleviate fears.
Higher Success Rates
If you need a specific type of dental implant, periodontists perform complex procedures that require extra knowledge. For example, if you've lost several teeth, periodontists install all-on-4 dental implants that replace multiple teeth. This procedure takes place in a single day so you'll leave the office with a mouth full of new teeth.
Before you receive dental implants, periodontists often perform bone regeneration to prevent further damage to the gums and bone. This procedure involves filling the socket with material to seal it off and keep the bone from dissolving. Other complicated procedures include installing zirconia dental implants and performing osseous surgery, which involves pulling the gums away from the teeth and cleaning out bacteria before reattaching them.
Since periodontists perform surgeries like this every day, you'll have a greater chance of success and a smaller risk of complications. This speeds up the recovery process and minimizes pain and discomfort.
Faster Recovery
After a procedure, you might experience swelling, bleeding and bruising that force you to pause your routine until your gums have fully healed. With a periodontist, you'll experience minimal pain and discomfort, allowing you to get back to your life. Periodontists use their specialized knowledge to plan ahead of time, perform an accurate surgery and offer a recovery plan that heals your gums without unnecessary treatments or medications.
What Questions Should You Ask Your Periodontist?
Before you start treatment, talk to your periodontist to ensure that they have the knowledge and expertise that you need. Common questions include:
How many dental implant surgeries have you performed?
What are your areas of expertise?
How long have you been working in this field?
What can I expect from the procedure?
Why do dentists refer patients to your facility?
What kinds of degrees and certifications do you have?
If your dentist referred you to Periodontal Associates of Memphis, they have confidence in our team of experts. We're always happy to talk about our education, experience and successes with previous patients.
Call Us Today
Periodontal Associates of Memphis offers services for new and returning patients. During your first visit, we'll review your medical history, examine your bite and evaluate your throat, tongue, jaw, gums and teeth to determine how to proceed. If you're anxious about your first visit, we provide a comfortable atmosphere that helps you relax during the appointment. Let us know if you have specific needs so we can accommodate you when you arrive.
To get started, call the office or request an appointment online. Once you've scheduled your appointment, fill out patient forms online to save time. Bring a referral form (if applicable), insurance card, photo ID, X-rays from your dentist, a list of your current doctors and information about medication and health conditions.
In addition to evaluations and medical procedures, we teach patients how to care for their teeth outside of the office. Talk to us about oral hygiene and choosing products like toothpaste, toothbrushes, floss and mouthwash.