If you are considering getting dental implants as a replacement for missing teeth, you may have questions about what they are and about the treatments involved. Dental implants are permanent anchors that are placed in the upper or lower jaw bones. A customized tooth is placed onto the implant. Dental implants are often the ideal solution to restore the function and beauty of your smile. Your questions about the procedures will be thoroughly answered in a consultation with Dr. Godat or Dr. King, but to get you started, here are some frequently asked questions we encounter as our patients research their options.
What is your experience in placing dental implants?
Its important to come to a dentist or specialist who has plenty of experience in placing dental implants. At Periodontal Associates of Memphis, we perform the process on a regular basis. General dentists refer their patients to us because we have the right skills to handle many circumstances and individual requirements that must be carefully considered before progressing with the treatment. We can assure a positive outcome. Feel free to ask us about our experience when you come in for a consultation.
Is there a CT scanner in your office?
Yes, we do have a CT scanner here in the office. A scan is essential to ensure that your implants are placed properly. It gives us a good view of your anatomy, especially if there has been an illness or accident that has affected the jaw bones where the implant will be placed.
How long do implants last?
Just as you need to take care of your natural teeth with regular brushing, flossing, and bi-annual visits to the dentist for exams and cleanings, you will need to do the same for dental implants. If you are careful to keep your mouth healthy, the implants can last a lifetime.
Are dental implants better than dentures or a bridge?
Dentures and bridges are sometimes good solutions for certain patients. However, they are more difficult to take care of, and can be uncomfortable at times. They can slip out of place. They may create embarrassing experiences in social settings. With dental implants, the replacement teeth don't slip. They feel and act just like natural teeth. They also look great; no one will ever know you have an implant, even if it's replacing a front tooth.
Will implants damage my remaining teeth?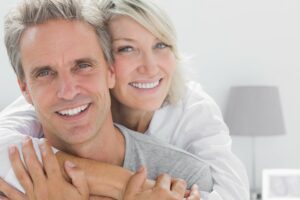 With dental implants, you can experience full functionality and aesthetics again, able to speak, eat, and smile without hindrance.
No, and that's another great thing about dental implants! An implant need not disturb or be anchored to other teeth. If the implant is filling a single gap, then we'll only be using that space to replace that tooth. Sometimes more than one implant is needed when replacing several teeth, but even in this case, we won't need to involve your remaining healthy teeth.
Is the treatment guaranteed to work?
We have encountered many different circumstances when placing dental implants. The patient's situation is not always straightforward. Some circumstances need additional procedures to create the ideal bone structures for an implant, for example. There is always a very small chance that the implant will fail, but we have the experience and resources necessary to create a treatment plan tailored to your specific individual needs to ensure that you have the best outcome possible.
Do you work on complex cases?
Yes, we do work on many cases that require complex treatment, including sinus lifts and bone grafts. We will always discuss options with you, and be sure to answer your questions during our consultations before we begin the first procedure. You'll understand what is happening every step of the way.
How much do dental implants cost?
This is something we will talk about during your consultation. We won't know until we've met you, performed an exam, and talked with you about your goals and needs. We have financial options available and we can help you make a claim with your insurance company. We will discuss treatment options and answer all your questions so you know what to expect.
How do I take care of my implants?
Care for your implants the same way you would your natural teeth, and they will last a good long time. The same advice applies: brush your teeth twice a day, floss after meals, use mouthwash, and visit the dentist regularly. Oral health is vital to keeping natural teeth and dental implants. Your gums need to stay strong and healthy to support your teeth and implants. These are important habits to maintain through your life.
How do you help patients who are nervous?
We understand that dental procedures can cause anxiety for some people. If you are open about your dental anxiety, and communicate to us that you believe you would benefit from sedation, we will be happy to talk about options with you. We want you to have a comfortable experience with us, so please let us know if you are nervous about any treatment, not just when having a dental implant placed.
Where do I start?
Typically, your general dentist will refer you to Periodontal Associates of Memphis when you are in need of a dental implant. He or she will put you in touch with our office to schedule an initial appointment. They will share necessary diagnostic information with us, with your approval, so we have the basics when we meet with you. We will perform our own exam, take scans, and discuss a treatment plan. We may wish to consider your specific case a little longer and have you return for a consultation at a later time. We always want to be sure we're recommending the best course of treatment for your individual needs.
Some patients come to us having already had a tooth extracted elsewhere, or after an illness or accident. If you're in this category, please contact us to schedule an appointment and we'll sit down and talk about what your needs are and form a plan from there.
Never be afraid to ask questions while you are considering any dental procedures. We want every patient to feel at ease and comfortable in our care. Understanding the treatment process is important. Please give us a call or contact us online to schedule a consultation. We look forward to meeting you!