Dental Splinting Can Save Loose Teeth
Do you have loose teeth? If so, it is important for you to see your dentist or a periodontist for a detailed assessment and correct diagnosis of what is causing your teeth to be loose. However, many times patients need to have their teeth splinted (teeth splint) as the end result of periodontal (gum) disease, in which bone that normally supports the teeth (together with the periodontal ligament that attaches bone to the teeth) is progressively lost.
Looseness of teeth is the result of occlusal trauma ("occlusal" – bite; "trauma" – injury) that can literally damage the remaining periodontal structures (bone and gum) of the teeth. Occlusal trauma comes in two varieties:
Primary occlusal trauma — an excess force applied to normal periodontal structures that is usually caused by parafunctional forces ("para" – beyond; "function" – normal range) such as clenching or grinding habits.
Secondary occlusal trauma — normal bite force applied to a tooth that has lost significant bone support or periodontal attachment.
A combination of both, in which excessive biting forces are applied to weakened or reduced periodontal structures (teeth that have lost bone due to gum disease).
Looseness of teeth is mostly caused by secondary trauma, as a result of bacterial plaque-induced gum disease. The approach to treatment of loose teeth is both biologic and mechanical. The biological approach involves treatment of the gum disease that must be addressed first to provide an environment in which the periodontal attachment can heal.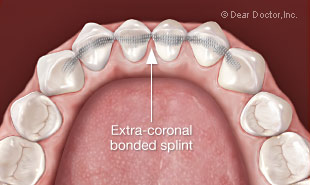 An illustration of an extra-coronal ("extra" – outside; "coronal" – crown) metal splint bonded to the inside surfaces of the lower front (incisor) teeth to provide stabilization.
The mechanical approach involves modifying forces applied to the teeth, treating the effects of the force on the periodontal ligament (the attachment mechanism of the teeth to the bone) and also by modifying the amount of biting force generated by the jaw muscles and received by the teeth during biting. This can be achieved in a number of ways, depending upon the degree of looseness of the teeth. Here is a summary of current methods:
Occlusal (Bite) Adjustment: First, the bite or occlusion (how the teeth meet together), can be adjusted by minor reshaping of the biting surfaces of the teeth so that they receive less force. This procedure is known as occlusal adjustment by selective grinding and requires knowledge and skill of how bites work and function.
Splinting Teeth: If the teeth are very loose, they can be splinted or joined together like pickets in a fence so that any biting force is distributed among groups of teeth rather than individual loosened teeth.

Temporary Splinting can be achieved by joining the teeth together with:

Extra-coronal Splints ("extra" – outside; "coronal" – crown): With this approach, splinting materials are attached to a group of teeth generally by bonding to the enamel, thus making them more rigid.
Intra-coronal Splints ("intra" – inside): These splints involve cutting a small channel into the teeth, inserting a rigid custom formed metal splint and bonding or cementing it in place to stabilize the teeth.

Permanent Or Fixed Splinting: This method literally (and permanently) "fixes" loose teeth together by crowning the affected teeth and fabricating a splint in which the crowns are joined or fused together.
Occlusal Splints Or Guards: If parafunctional clenching or grinding habits are evident, then a removable occlusal splint or bite guard may further protect the teeth from the consequences of too much biting force. Since parafunctional forces and habits tend to be stress related, these removable guards can be used during times of tension, stress or when these bad habits are evident.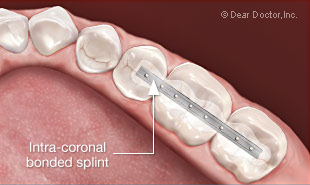 An illustration of an intra-coronal ("intra" – inside; "coronal" – crown) metal bar splint designed to stabilize loose back teeth (pre-molars and molars) where biting forces are greater.
Another approach that is sometimes used to treat loose teeth is by orthodontic treatment — to reposition teeth so that they receive forces more evenly and appropriately. However, it can be a complicated process — especially if there is underlying gum disease that must be controlled before orthodontic treatment can be successful. When applied correctly, the controlled forces used in orthodontics to move the teeth can actually be used to regenerate lost bone and create new periodontal attachment.
The long term outlook or prognosis of the teeth must be considered before deciding upon treatment options. While temporary splinting options may buy you some time, the teeth themselves may need to be replaced if the damage to the periodontal structures is severe. See your dentist or a periodontist for a complete examination and consultation to learn all your options.